Let's talk to us
If you would like to talk to us about a project or you have a question, please get in touch.
Fill in our contact form and we'll get right back to you. Whether you're looking to discuss about our brands, recruitment or simply say hello, we'd love to hear from you.
Contact info of our brands
Click our brand logo on phuket map to see contact address, phone number and email address.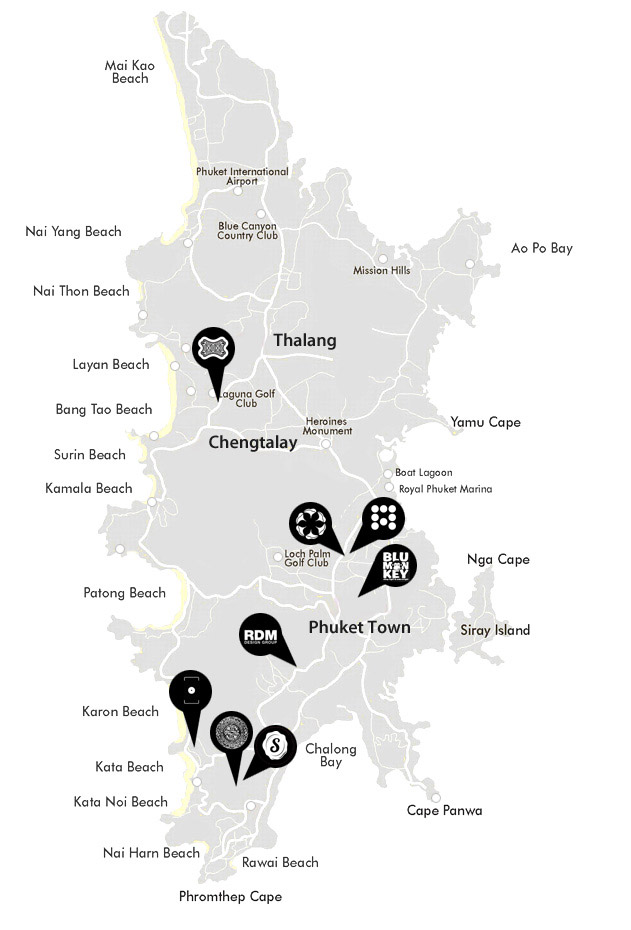 Wings
Pasak Soi 8, Thepkasattri
Thalang, Phuket 83110
Mobile : 083-5955355
E-mail: [email protected]
Number Twelve
100/999 ,100/272 Moo 5, Rassada,
Muang, Phuket 83000
Tel : 076-261999
E-mail: [email protected]
The Attitude Club (Head Office)
100/1000 Moo 5, Rassada,
Muang, Phuket 83000
Tel : 076-261999
Fax : 076-261541
E-mail: [email protected]
Roof Design& Management
88/15 Moo 5, West-Chaofa Rd.,
Chalong, Muang, Phuket 83130
Mobile : 076-367368
E-mail: [email protected]
Blu Monkey
113/3 Hongyok Utit Rd., Taladyai,
Muang, Phuket 83000
Tel : 076-212433
Mobile : 084-6892755
E-mail: [email protected]
Foto Hotel
218/9 Kata-Saiyuan Rd.,
Karon, Muang, Phuket 83100
Tel : 076-680900
Fax : 076-689901
E-mail: [email protected]
Two Villas Holiday
95/75 Moo 7, Saiyuan-Kata Rd.,
Rawai, Muang, Phuket 83130
Tel : 076-289614
Fax : 076-289615
E-mail: [email protected]
Saturdays
Moo 4 Saiyuan-Kata Rd., Rawai,
Muang, Phuket 83130
Mobile : 099-1495900
E-mail: [email protected]
The Attitude Club
(Head Office)
100/1000 Moo 5, Rassada,
Muang, Phuket 83000
Tel : 076-261999
Fax : 076-261541
E-mail: [email protected]